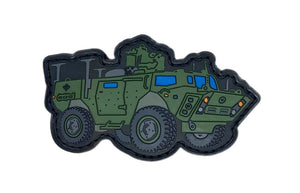 TEXTRON TACTIAL ARMORED PATROL VEHICLE
One Textron TAPV demonstration vehicle was built in 2011.[4] They have yet to see combat.[2] Four pre-production vehicles have been delivered to the Canadian Army and have undergone various trials and training exercises with plans for an additional two to be delivered. First production vehicles were scheduled to be delivered in 2014, however deliveries were set back to begin in 2016 and will be completed in around 2018.  The new vehicle will gradually replace the RG-31 Nyala MRAP vehicle and Coyote armoured cars, which are currently in service with the Canadian Army.[5][6]
Textron Systems Canada Inc., a Textron Inc. company, announced August 19, 2016, the delivery of the first Tactical Armoured Patrol Vehicle (TAPV) to the Canadian Army. The Canadian Army is fielding the first vehicles to the 5th Canadian Division Support Base Gagetown and the 2nd Canadian Division Support Base Valcartier.[7]
Textron Systems plans to deliver at least 30 vehicles per month to the Canadian Army with all 500 vehicles scheduled to be delivered by December 2017. If any of the 100 options are converted to orders, their delivery is expected by 2020. The fleet will be distributed across seven bases.[8]
The first operational exposure for the TAPV fleet was in early May 2017 when a task force from 2nd Canadian Division from Canadian Forces Base Valcartier deployed on Operation LENTUS to assist flooded communities in Quebec. The TAPV and LAV VI family of armoured vehicles were featured in the media video coverage. Nearly 2,200 military members, deployed to the areas of Saint-Jean-sur-Richelieu, Shawinigan, Laval, Pierrefonds, Rigaud, Oka, and Gatineau in support of civilian authorities when provincial and territorial authorities became overwhelmed by the natural disaster.[9]
Made of the best quality PVC, this design mesure 2,25'' high and 3,75'' wide. This patche come with velcro hook backing for easy carry on any loop velcro.